APD promotions
DEAD GROUND
+ OCEANS + KID LUNA + THE BROAD + JASON ALLEN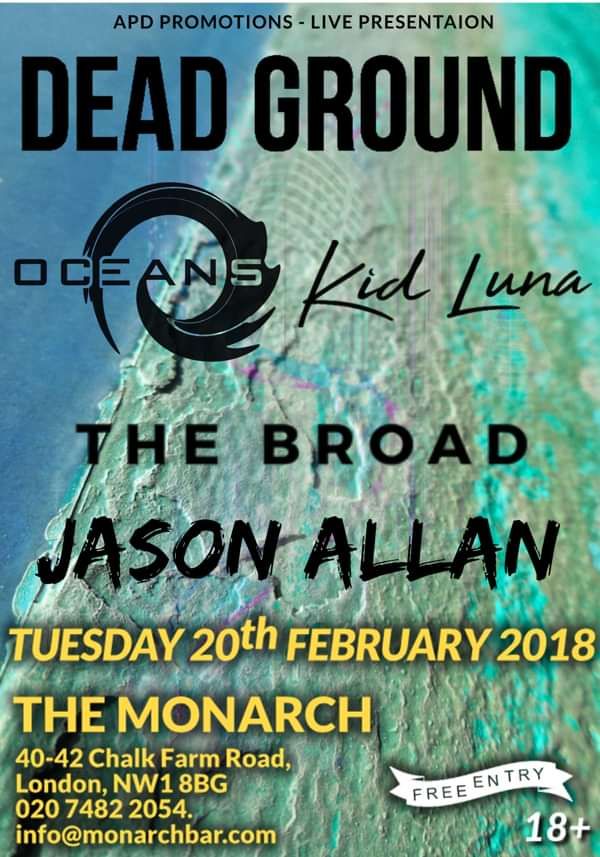 This is a showcase event, showcasing the some of the best developing talent across the UK and Ireland.
This night is Free Entry
---
Dead Ground www.facebook.com/pg/deadgroundmu This reckless three-piece sets out to instil a buzz into each and every member of their audience, whether by their powerful riffs pumped out by drummer Jake Friese-Greene and bassist Ed Tucker or the intensity of frontman Ollie Harris' heartfelt melodies and guitar lines.
Dead Ground was formed in Exeter in late 2014, and after a great response to their initial release and a growing fanbase, things are beginning to get bigger and better. Stage Time - 22:30
---
Oceans www.facebook.com/pg/oceansukband Oceans brings you a powerful, energetic and distinct sound and are now having a strong impact especially in Brighton and London. Oceans are extremely determined at what they do and always go the extra mile.
Oceans are recognised for their friendship, not eating meat, and their determination for success! Definitely worth seeing Oceans perform Stage Time - 21:45
---
Kid Luna www.facebook.com/KidLunaUK Pumping beats, catchy hooks & raw energy; what more could you want from an indie-rock band? With a backlog of shows alongside bands such as Wild Front, SHEAFS and Himalayas, and a debut EP now out across all major platforms, these lads are ready for the top of the game. Make sure to check these boys out now, but be careful; you will be struggling to get their songs out of your head from the word go.
Stage Time - 21:00
---
The Broad www.facebook.com/pg/thebroadmusic
New emerging Indie band from Essex/ London
https://soundcloud.com/thebroadmusic
Stage Time - 20:10
---
Jason Allan www.facebook.com/pg/JasonAllanUK Jason (20) Singer, Songwriter is creating his individual style through the way of pop. His high energy rock and indie nasal style of singing adds a vibrant timbre to his unique sound.
Stage Time - 19:30
---
Music Starts at 19:30 Free Entry
Line Up
DEAD GROUND
OCEANS
Pumping beats, catchy hooks & energy; what more could you want from an indie-rock band? Kid Luna are the new kids on the scene, mixing rock and indie-pop together seamlessly. Formed in Norfolk, these boys are ready to take the UK by storm. With their huge passion, and hunger for success, you best get learning the lyrics to their memorable tracks, such as Alive & You, Baby, taken from their debut EP, Alive. Get ready, as Kid Luna will be a name you won't forget.
View Profile

THE BROAD
JASON ALLEN