Camden Rocks
RIVER HOUNDS
+ MAXX PALMER + JOI NOIR + BLACK SURF + MATTY JAMES CASSIDY + CALICO JACK + THE SWAGGER + LATE NIGHT LEGACY
Buy Tickets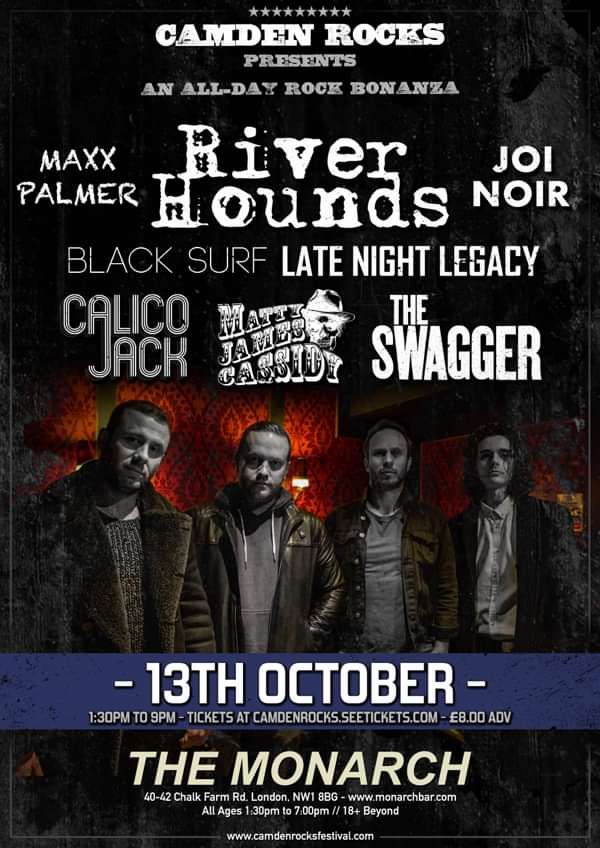 Camden Rocks Festival proudly presents an all-day rock-n-roll bonanza feat. River Hounds, Maxx Palmer, Joi Noir, Black Surf, Matty James Cassidy, Calico Jack, THE SWAGGER and Late Night Legacy at The Monarch.
Since the continued success of Camden Rocks Festival, we're running a string of 'presents' shows to give you some of the best new alternative, indie, rock & metal music about!
Doors - 1:30pm to 9:00pm // Price - £8.00 Adv. Tickets - http://camdenrocks.seetickets.com Age - All Ages until 7:00pm, 18+ beyond.
•••••••••••••••••••••••••••••••••••••••••• About:
River Hounds - www.facebook.com/RiverHoundsUK River Hounds -re the epitome of modern Rock -nd Roll whilst st-ying true to their roots of Zeppelin, O-sis, Hendrix, Riv-l Sons. Comprising le-d voc-list Rich Grism-n, b-ss/voc-list Tony Crumpton, le-d guit-rist Dimi B-lev -nd drummer M-nol M-rekov, the four-piece b-nd w-s formed -t the beginning of 2017. Shortly -fter forming, the b-nd self-rele-sed its debut E.P. Along with - series of self produced music videos. Following this success, River Hounds filmed their biggest show of 2017 -nd h-ve been ste-dily rele-sing live perform-nces with m-ny more yet to come on VEVO, YouTube, Spotify -nd -ll soci-l medi- pl-tforms! On st-ge they -re - tour de force, with surging riffs -nd so-ring melodies. Follow them on soci-l medi- -s this is just the beginning for wh-t promises to be - re-l Rock N' Roll explosion!
Maxx Palmer - www.facebook.com/MaxxPalmerMusic Hertford based newcomers, Maxx Palmer are an exciting 3 piece. Inspired by an eclectic mix of genres there aren't enough pigeon holes to contain Maxx Palmer. Their signature sound of organic melodies, powerful vocals and infectious guitar solos make this tight band ones to watch out for.
Joi Noir - www.facebook.com/JoiNoirBand Joi Noir – pronounced Joy Noir – are aeuphoric alt-cult-rock band hailing from Russia. The six-piece who have been compared to the Banshees – mainly due to the presence of enigmatic Russian chanteuse Olga Gallo – are due to release their new album Celeste in early 2019. The album already feels like a classic -like something you've had knocking around the house for years.
Black Surf - www.facebook.com/EnjoyBlackSurf "Bridging the gap between the unorthodox breaks of Grouplove and the hook-heavy passion of Weezer, London-based trio, Black Surf are an alternative-rock melting pot."
Matty James Cassidy - www.facebook.com/mattyjamescassidy Matty James Cassidy is a singer-songwriter-musician from N. Ireland who pens and performs heart-felt, sing-along, tale-telling, rabble-rousing songs you can hang your hat on. A modern day troubadour, playing his own brand of rock n' roll with hundreds of gigs across the UK/Europe and appearances at major festivals all under his belt, now backed by his full rip-roaring band.
Calico Jack - www.facebook.com/officialcalicojack Calico Jack are an explosive new band from London. They play a catchy and aggressive brand of funk rock, and host unpredictable live shows that can feature anything from talented rappers to tasteless costumes.
THE SWAGGER - www.facebook.com/theswaggerofficial THE SWAGGER are an original 4 piece indie-alternative, acoustic-pop rock band from Hornsey, North London UK formed in 2011. The band consists of brothers Lee Stevens (Lead Vocals, Rhythm Guitar) and Paul Stevens (Lead Guitar, Backing Vocals).
Late Night Legacy - www.facebook.com/LateNightLegacy "Late Night Legacy stand out as the band who could lead the charge for Yorkshire bands in 2018… you wouldn't believe the band are on their way up rather than cementing their place at the top " – H2N (2018)
Line Up
RIVER HOUNDS
MAXX PALMER
JOI NOIR
BLACK SURF
MATTY JAMES CASSIDY
CALICO JACK
THE SWAGGER
Winners of Radio Aire's 'Battle Of The Bands' at The Light Leeds 2015, Late Night Legacy are fast becoming one of the most sought after bands in the area and have been pegged 'One to Watch' in 2016 after wowing judges and fans with their electric live performances. Their crowd pleasing performance of just two of their fourteen original tracks at the event subsequently gained a live gig slot at the Leeds First Direct Arena opening for Duran Duran to Industry V.I.P.s, complete with follow up interview and a stripped back acoustic style performance for the Yorkshire television channel 'Made In Leeds'. With signature rip-roaring anthemic vocals, heart thumping drum beats, bass that vibrates your bones and lethal guitar riffs, the band create a rock fuelled, twisted, funked up blues which is sure to make you want to move to the music. Though heavily rooted in rock, their sound extends far beyond to utilise a variety of styles ranging from reggae to funk, blues to soul, drum and bass to latin infused grooves. Encapsulating the energy of controlled chaos, their music invokes the power, vivacity and rawness of such bands as the Red Hot Chilli Peppers and The Black Keys mixed with the song writing prowess of Pearl Jam's Eddie Vedder.
www.latenightlegacyofficial.com
WATCH OUR NEW VIDEO HERE: https://www.youtube.com/watch?v=hsjJcaduCrk
View Profile