Camden Rocks
THE SOAPGIRLS
+ THE MUFFIN HEADS + YOUTH ILLUSION + ANGERLAND
Buy Tickets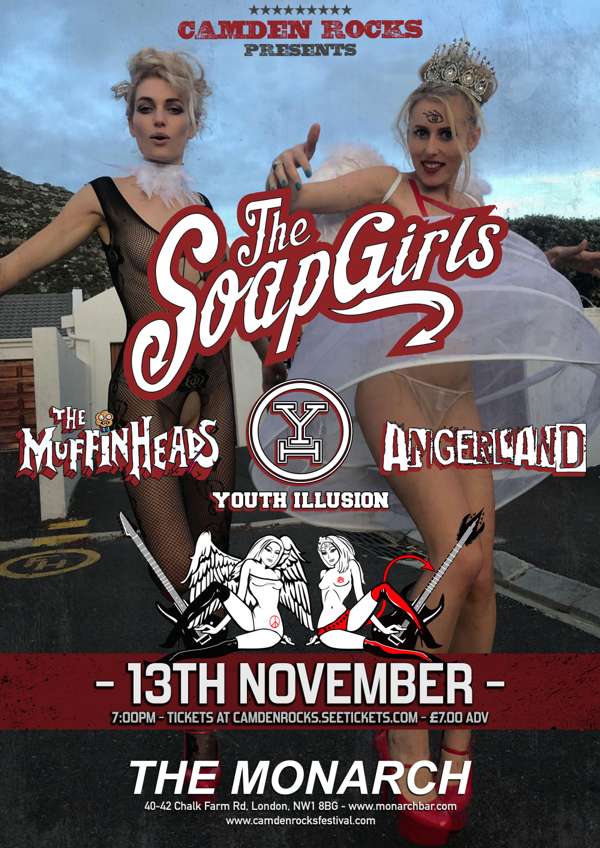 Camden Rocks Festival proudly presents rock-n-roll sister-duo The SoapGirls plus The Muffin Heads, YOUTH ILLUSION and Angerland live at The Monarch.
Since the continued success of Camden Rocks Festival, we're running a string of 'presents' shows to give you some of the best new alternative, indie, rock & metal music about!
Doors - 7:00pm // Price - £7.00 Adv. Tickets - http://camdenrocks.seetickets.com
•••••••••••••••••••••••••••••••••••••••••• About:
The SoapGirls - www.facebook.com/thesoapgirls Armed with unforgettable melodies and catchy choruses, The Soap Girls energy, rawness and authenticity live, has earned them a formidable reputation. Performing continuously throughout 2017, these fearless French born sisters Millie and Mie, have slayed critics and earned a dedicated group of followers known as the 'The SoapSuds', who follow the band across the UK and Europe. The Soap Girls are society's rejects and their punk credentials were rubber stamped by scintillating performances at the legendary Rebellion Festival last year and such was the their success that they were asked back to play the Blackpool event again in 2018.
The Muffin Heads - www.facebook.com/themuffinheads The Muffin Heads are a punk/rock/grunge sandwich conceived in Essex. Having had multiple plays on BBC6Music, The Muffin Heads title track of their debut EP "Don't Give The People What They Want" was described by DJ Steve Lamacq as "Two minutes of anti-establishment punk".
YOUTH ILLUSION - www.facebook.com/YouthIllusionband What happens when you take musicians from 3 different countries and you throw them into the boiling pot of the London music scene? The answer is here and it is good news for everyone. Youth Illusion bring a fantastic mix of vibrancy, presence, and honest music wherever they go. With a production deal signed, and significant industry interest in the band, Youth Illusion plan to hit the 2019 festival season with a bang; all efforts point toward summer 2019 being the period where these lads will imprint themselves on the masses and leave a lasting impression on anyone who crosses their stage.
Angerland - www.facebook.com/Angerlandband Angerland: Brandham, Fisher, Keir, Stone. Post-punk rage and vehemence. Come bask in the noise. Ira industria noster
Line Up
THE SOAPGIRLS
THE MUFFIN HEADS
YOUTH ILLUSION
ANGERLAND