Camden Rocks
FAERS
+ WE ARE ONE + THE KAIZENS + MOURNING BIRDS + THE FABRICATORS + SPLINTER + NUNCHUCKER + PLAGUE UK + PELELIU
Buy Tickets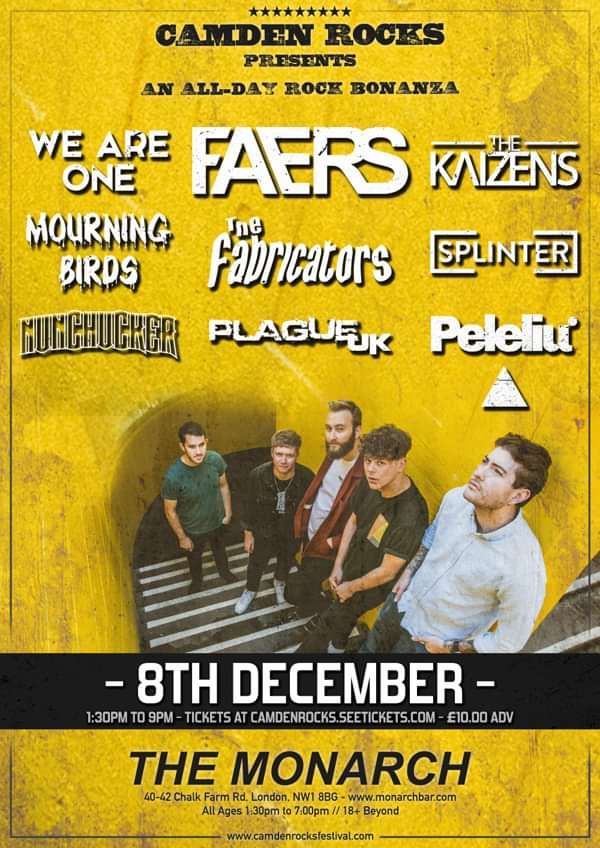 Camden Rocks Festival proudly presents an all-day rock-n-roll bonanza feat. FAERS (newly announced), We Are One, The Kaizens, Mourning Birds, The Fabricators, Splinter, Nunchucker, Plague UK and Peleliu live at The Monarch.
Since the continued success of Camden Rocks Festival, we're running a string of 'presents' shows to give you some of the best new alternative, indie, rock & metal music about!
Doors - 1:30pm to 9:00pm // Price - £10.00 Adv. Tickets - http://camdenrocks.seetickets.com Age - All Ages until 7:00pm, 18+ beyond.
•••••••••••••••••••••••••••••••••••••••••• About:
FAERS - www.facebook.com/faersmusic "Faers are creating something that is incredibly on trend at the moment. Perfect for daytime play on the likes of Radio 1 or Radio X, Lust and Youth is a scintillating track that offers a more intense, enigmatic side to a band who are ready for the attention they will, deservedly, start to receive." - It's All Indie
We Are One - www.facebook.com/WeAreOnemovementuk We Are One are a hip hop/ punk movement from Yorkshire based in London, Formed and fronted by The Brennan Twins, Bud & Aidan are actors and models from Doncaster who have been living in London for 4 years whilst writing this project. We Are One are more than just another band, we are a movement intending on uniting fans of all genres and weirdos and freaks alike... WE ARE NOT HERE TO TAKE PART, WE ARE HERE TO TAKE OVER... WE ARE ONE.
The Kaizens - www.facebook.com/thekaizens A blast of direct raw Indie Rock that's as infectious as it is heartfelt. The sound of The Kaizens is instantly recognizable and has already seen them burst out of their hometown Torbay, with their sizeable ambition lining up the rest of the world in their sights. Their breadth and power becomes even move even more evident when on stage, where they've been hailed by fans and critics alike for sounding record-perfect in the live arena, but with a spine-tingling and raw delivery.
Mourning Birds - www.facebook.com/mourningbirds Mourning Birds are a 5-piece garage rock band from Medway, Kent. After grabbing the early attention as a 3-piece with 'Oh Yeh' and 'Eve Of The Isle' earning extensive coverage including BBC Radio 1 and NME
Line Up
FAERS
WE ARE ONE
THE KAIZENS
MOURNING BIRDS
THE FABRICATORS
SPLINTER
NUNCHUCKER
PLAGUE UK
PELELIU