Camden Rocks
THE MAIN GRAINS
+ THE BERMONDSEY JOYRIDERS + RICH RAGANY & THE DIGRESSIONS + SCREECH BATS + MICK O'TOOLE + BEXATRON + THE IDOL DEAD + KNOCKSVILLE + THIS BOYS FIRE
Buy Tickets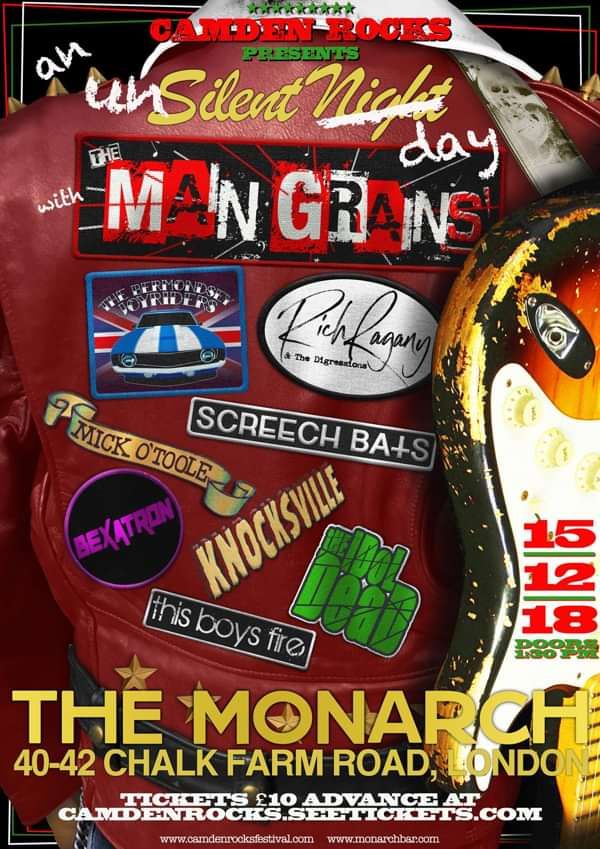 Camden Rocks Festival proudly presents an Xmas Rock-n-Roll all-day'er at The Monarch featuring punk rock'ers The Main Grains, The Bermondsey Joyriders, Rich Ragany & The Digressions, Screech Bats, Mick O'Toole, Bexatron, The Idol Dead, KNOCKSVILLE and This Boys Fire.
Since the continued success of Camden Rocks Festival, we're running a string of 'presents' shows to give you some of the best new alternative, indie, rock & metal music about!
Doors - 1:00pm // Price - £10.00 Adv. Tickets - http://camdenrocks.seetickets.com
•••••••••••••••••••••••••••••••••••••••••• About:
The Main Grains - www.facebook.com/Maingrains Debut mini-album 'Don't Believe Everything You Think' available on cd and ltd edition 10" red vinyl NOW! http://maingrains.com/store
The Bermondsey Joyriders - www.facebook.com/thebermondseyjoyriders Claiming all the credentials of a bonafide supergroup, The Bermondsey Joyriders are pooling the hard-won experience and history of three veteran punk founding members; Gary Lammin (vocals/guitar) cutting his teeth in the Joe Strummer produced Little Roosters, Chris Musto (drums) is a sticksman of some credentials- having previously played with Johnny Thunders, Joe Strummer, Nico and Glen Matlock, Gary Pearce (bass) from playing guitar in The Innocent Bystanders , Ex-Varders, The Honest John Plain Band and The Vulz now takes up the bass for the band.
Rich Ragany - www.facebook.com/rich.ragany "...you're in the capable hands of one of the country's most engaging frontmen. A unique, hitherto unimaginable combination of David Lee Roth and Greg Dulli, his unpredictable onstage storytelling has become legendary" - Vive Le Rock Magazine Role Models frontman Rich Ragany has brought together some incredible musicians from bands such as The Dedwardians, The Men They Couldn't Hang and The Scott Sorry Band to back him up on his brand new solo outing and live shows.
Screech Bats - www.facebook.com/ScreechBats "…we were knocked out by their fierce sound, hook-laden songwriting and baaad attitude. They played a searing session for us which sent social media wild and gained them new fans and assured them a place in our hearts forever" – Melita Dennett, BBC Introducing South Lexi Clark and Kit Reeve from successful Surrey quartet, Hearts Under Fire, formed Screech Bats in the summer of 2015. Initially considered to be a 'side project' with pals Rio Hellyer and Esme Baker, Screech Bats quickly grew into something much more.
Mick O'Toole - www.facebook.com/MickOtooleUK Mick O'Toole formed in 2012 In the deepest darkest Shire, Wiltshire in a town called Calne. This town would be the breeding ground to where we honed our style of chaotic English Punk with our ancestral Celtic and English Folk to create our style of British Folk Punk. Mick O'Toole was a character in a song from local legends 'The Boys From County Hell' a band who we get most of our inspiration from. However we are also inspired by the likes of The Dropkick Murphys, Flogging Molly, Gogol Bordello and The Pogues not to mention many other great punk bands such as The Clash, The Sex Pistols,The Adverts and Rancid. This is how we get our sound by combining the great punk ethos with traditional Folk. We now have three EP's 'Deep In Cider, '1665 Pitchfork Rebellion' and 'A Working Class Battalion" while performing over hundreds of gigs we realised that we only have one goal to keep making music that hopefully brings people together for a good ole knees up and a grand old sing along. No egos, no divas just working class men having a good time.
Bexatron - www.facebook.com/bexatronlive BeXatron are a high octane glam-punk outfit from London.Fronted by the GaGa Idolesque Rebecca Eite.Their debut album Hey You! is released later this year on Zube Records.After their performance at this years Camden Rock Festival it was reported they " out rolled the Stones"
The Idol Dead - www.facebook.com/theidoldead Always outnumbered but never outgunned, The Idol Dead deliver fearless and memorable punk rock directly to the prefrontal cortex of the UK independent music scene. Since forming in 2008 they have been relentless in their songwriting and touring, covering the UK many times over and spreading into mainland Europe like a green and black plague
KNOCKSVILLE - www.facebook.com/knocksville13 Knocksville are the punk 'n' roll band from Brighton, UK which mixes the best elements from 50's rockabilly to modern day energetic punk rock. The trio performs with a guitarist that's too cool for school, A drummer that defies all the laws of speed and precision and the of course, a double bassist that loves to stand on his bass and throw himself around the stage. This creates an energetic and exciting rock 'n' roll band to watch and listen to and when fuelled with aggressive lyrics, the sound of Knocksville is ready!
This Boys Fire - www.facebook.com/thisboysfire This Boys Fire are a London/Essex based rock band on their way to big things. Their energetic live shows and anthemic rock songs have seen them play some of London's finest venues, as well as being flown to Los Angeles to play at The House of Blues, and headline the iconic Roxy Theatre
Line Up
THE MAIN GRAINS
THE BERMONDSEY JOYRIDERS
RICH RAGANY & THE DIGRESSIONS
SCREECH BATS
MICK O'TOOLE
BEXATRON
THE IDOL DEAD
KNOCKSVILLE
THIS BOYS FIRE