Camden Rocks
HEALTHY JUNKIES
+ DEAD AT ELEVEN + PRETTY PISTOL + DUTCH MUSTARD
Buy Tickets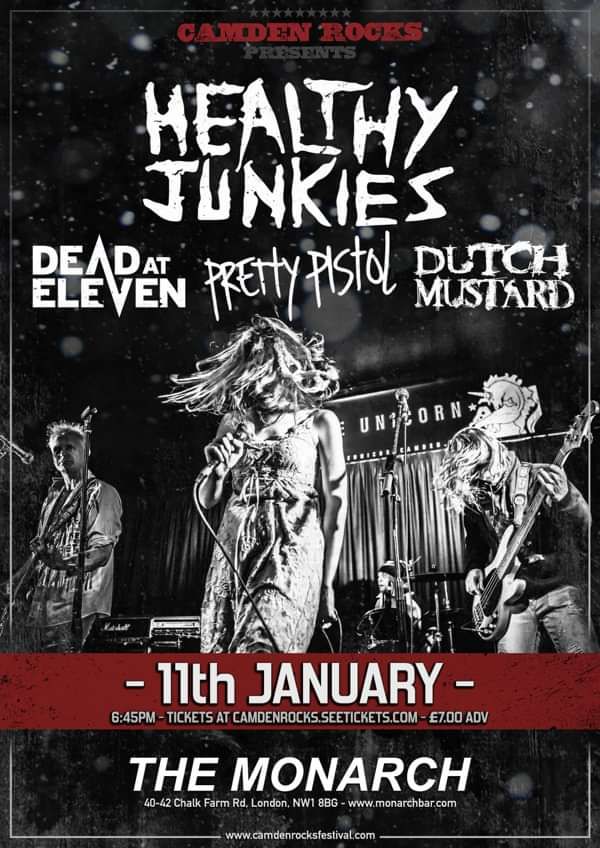 Camden Rocks Festival proudly presents Punk-Rock Psychedelic phenomenon Healthy Junkies plus Pretty Pistol, Dead At Eleven and Dutch Mustard live at The Monarch.
Since the continued success of Camden Rocks Festival, we're running a string of 'presents' shows to give you some of the best new alternative, indie, rock & metal music about!
Doors - 6:45pm // Price - £7.00 Adv. Tickets - http://camdenrocks.seetickets.com
•••••••••••••••••••••••••••••••••••••••••• About:
Healthy Junkies - www.facebook.com/healthyjunkiesband Punk Rock / Grunge / Psychedelic phenomenon Healthy Junkies continue on their quest to stimulate and celebrate the great rock'n'roll lifestyle. Promoting their 4th studio album out now on Cargo Records, they will be performing new songs off the album along with old faves in their own unique way. Expect melodic chaos and theatrical mayhem...
Pretty Pistol - www.facebook.com/prettypistoluk Pretty Pistol is a loud 4-piece garage punk band born in London. After a chance encounter at a Hole gig in Birmingham back in 2010 – plus several drinks and a trashed hotel room – singer Laura Le Rox and drummer Emma Waller met up in Camden's finest public toilet-turned-rehearsal room five years later to form Pretty Pistol with guitarist Billy Larsen and bassist Nick Arnell.
Dead At Eleven - www.facebook.com/deadateleven Dead At Eleven are a four piece band from London specialising in Energy Rock (EnRo). Driving guitar riffs, high energy bass lines and great vocal melodies form the spine of their sound and their captivating stage presence mean that their live shows have gained critical acclaim. The band has a single mission: to make people dance, feel and forget about real life.
Dutch Mustard - www.facebook.com/dutchmustard "Dutch Mustard are a 4 piece Grunge Rock band heavily influenced by their collective love of 90s music, containing elements from Hard Rock and Alternative. Formed in London in February 2018 by front woman Sarah-Jayne Riedel, the band's current line-up consists of Sarah-Jayne on vocals and rhythm guitar, Neyl Nejjai on lead guitar, Alex Kemp on backing vocals and bass and Arlen Millward drums."
Line Up
HEALTHY JUNKIES
DEAD AT ELEVEN
PRETTY PISTOL
DUTCH MUSTARD