Camden Rocks
THE KUT
+ BAD SOLUTION + SWEET CRISIS + DEATH VALLEY KNIGHTS + ACTS OF VENGEANCE + TWO YEAR BREAK + OF ALLIES + BLACK ROZE + PARABYSS + HOWLIN MAY QUEEN
Buy Tickets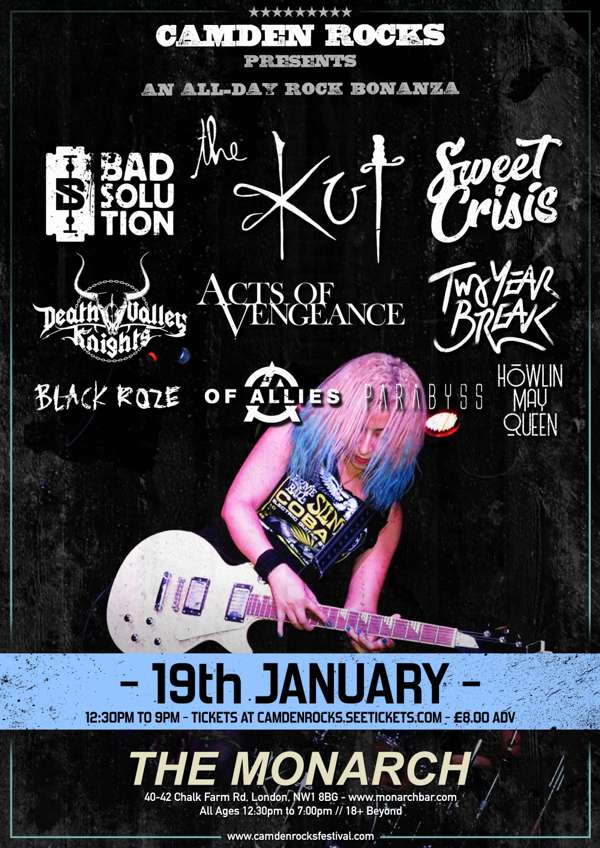 Camden Rocks Festival proudly presents an all-day rock-n-roll bonanza feat. The Kut, Bad Solution, Sweet Crisis, Death Valley Knights, Acts of Vengeance, Two Year Break, Of Allies, Black Roze, Parabyss and Howlin May Queen live at The Monarch.
Since the continued success of Camden Rocks Festival, we're running a string of 'presents' shows to give you some of the best new alternative, indie, rock & metal music about!
Doors - 12:30pm to 9:00pm // Price - £8.00 Adv. Tickets - http://camdenrocks.seetickets.com
Age - All Ages until 7:00pm, 18+ beyond.
•••••••••••••••••••••••••••••••••••••••••• About:
The Kut - www.facebook.com/thekut The Kut debut album 'Valley of Thorns' has landed entries at No. #7 in the UK Rock Album Chart, No. #6 in the UK Indie Breakers Album Chart & No. #18 in the UK Indie Albums Chart - charting in a total of 7 UK Charts. The latest music video 'Hollywood Rock n Roll' follows the recent 22 date U.K. Album Launch Party Tour, with the album due to become available on 12 Vinyl on Friday 2nd November. 2018 has seen a worldwide deal announced with Cargo Records for the long-awaited debut album, 'Valley of Thorns'. Produced by James LeRock Loughrey (Skindred / Def Leppard / White Zombie / My Vitriol) the debut sees some of the live favourites heard on The Kut tours. Reactions have been strong across the board, with radio support from Kerrang! Radio by Johnny Doom, Sean McGinty at BBC Introducing, Total Rock Radio, Hard Rock Hell Radio and as far as the USA and Australia, with over 90 stations adding The Kut to playlist. In the US, over 12 states have been supporting the album on Triple A, Specialist and College Stations, seeing in the first adds to USA's NACC Rock Chart. The recent 'Mind Games' video was premiered on Scuzz TV, and online by Clash Magazine, while The Kut were featured as 'Ones to Watch' by Planet Rock Radio. The brand new 'Hollywood Rock n Roll' video sees The Kut drive some nifty sports cars through LA and features a cameo from strongman Ike Catcher, recently appearing as a fighter in Billy Corgan's 40 minute film 'Pillbox'. The Guardian - Editor's Pick: "Your snarly singer-guitarist... Shades of Courtney, Brody and L7"
Bad Solution - www.facebook.com/badsolution Melodic Hard Rock/Metal from London UK! Our Critically acclaimed Debut album 'The War Within' is out now! Check it out......
Sweet Crisis - www.facebook.com/sweetcrisisband Sweet Crisis is a modern rock band in which the roots and the music run deep. Singer Leo Robarts, guitarist Piers Mortimer and drummer Dave Cullen first met when they were school kids in the early 2000s, and as Leo says of Sweet Crisis in 2018: "This band is all about soulful, emotional songs."
Death Valley Knights - www.facebook.com/deathvalleyknights Death Valley Knights are a London-based metal band who love it loud and heavy. Formed in 2011 the band have toured the UK and Europe opening for such bands as Orange Goblin, Dragonforce, Powerquest and performed at Bloodstock, Hard Rock Hell, Hammerfest, Stone Free, and more. The band's latest EP, Valhalla Vintage, has had tracks played on stations across the UK with the lead single, Be the Grizzly, topping the Hard Rock Hell Radio chart at number one for several weeks. With dates on the continent and tour in the new year, Death Valley Knights live for the stage and are always ready to party!
Acts of Vengeance - www.facebook.com/AoVOfficial ACTS OF VENGEANCE are a four piece Metal band based in London, England who play original music in the style of Metallica, Alter Bridge, Iced Earth, Pantera and Slayer. What gives ACTS OF VENGEANCE a different edge in modern metal is the rich vein of melody in their music. Their sound pays homage to the greats and yet finds its own place and relevance in the current metal landscape. They are an infusion of heavy catchy riffs, basslines that don't just follow the root, pounding driving rhythms, classic rock/metal guitar solos and Pantera/Alter Bridge style vocals.
Two Year Break - www.facebook.com/twoyearbreak Two Year Break are an alternative rock band from London, who have built up a good local following over the last couple of years. They take influence from bands such as Mallory Knox, You Me At Six and Twin Atlantic. They're all about the catchy hooks and choruses, which will leave you dancing for days! Check out their recent debut music video here: https://youtu.be/IpqnX_f60DA
Of Allies - www.facebook.com/OfAllies With 1 million streams on Spotify of their debut album, 'Night Sky', in the first month of release, Of Allies have smashed into the international rock scene with crushing force. 12 months later, and OA have racked up over 3 million streams.
Black Roze - www.facebook.com/blackroserockbandkent Black Roze are a female fronted UK based Rock band based in Thanet Kent. We formed in 2015 and started by packing out local rock venues with our passionate performances along with headlining numerous Biker festivals. Our material covers a wide range of Rock/Metal genres; we describe it as 'Iron Maiden crossed with Evanescence with a sprinkle of Glam Sleaze'. All members of the band contribute to the creative process; the music is a result of combined life experience and musical influences ,good ,bad & definitely Fun!
Parabyss - www.facebook.com/parabyss Parabyss are a 5 piece London based metal band, fusing heavy and melodic riffs, progressive grooves, accompanied by versatile and powerful vocals.
Howlin May Queen - www.facebook.com/howlinmayqueen Howling May Queen is the rock band formed by Simon Hurts and Daniel Ocean in London, October 2017. The band sets its roots in the classic rock tradition with a solid background of blues and folk, alternating heavy electric shows to intimate and atmospheric acoustic sessions.
Line Up
The Kut are the latest act to join a growing list of UK bands who are making waves across the pond. In the last 24 hours the band have been added to the playlists of MTV-U and AXS TV, who join Scuzz TV in supporting their latest music video 'I Want You Maniac'. Inspired by bands like Deftones, L7, Hole, Incubus, Placebo, Nirvana and Faith No More, The Kut are a basement rock trio formed from the alternative scene.
With playlistings on Planet Rock Radio including Wyatt Wendels New Rock Show, and airplay on BBC Introducing Lancashire, BBC Introducing Oxford and Jim Gellatly's New Music Showcase, the 'I Want You Maniac' their latest single is also playing out on the club circuit, with Club NME, Medication Liverpool and many others on board. The band won the public vote in the MTV Brand New Unsigned Poll for 2014, and this year has seen them feature on Scuzz TV with 3 music videos, as well as featuring on Kerrang! Radio and in Kerrang! Magazine. Earlier this year the band played a live session on BBC Introducing Lancashire from the BBC's Blackburn Studios.
The single is the first offering from their forthcoming EP, and a quick follow up to the 'Make Up' EP, that came out in August. Produced by James LeRock Loughrey (Skindred / White Zombie / My Vitriol / Def Leppard), the latest single, 'I Want You Maniac' is probably the closest resemblance to the material that's been played out for their live sets this year, which included 15 festivals. Recently joined by ex-Vice Squad drummer, Violet, the band have just put the finishing touches on their forthcoming 'Rock Paper Scissors' EP, due out Spring 2015. With previous music videos played out on 16 USA cable stations via the Bongo Boy Rock n Roll Show and Putpat TV (Germany, Switzerland, Austria) this year, 2014 has very much put The Kut on the radar.
The Kut - I WANT YOU MANIAC (music video)
https://www.youtube.com/watch?v=N68dzvnPMu4 Listen on Soundcloud https://soundcloud.com/criminal-records/the-kut-i-want-you-maniac
@thekutgirlsrock | http://www.facebook.com/thekutgirlsrock | http://youtube.com/CriminalRecordsUK
Alekhines' Gun
https://www.youtube.com/watch?v=epBOpXw3LHE
Kerrang! Magazine "Despite the loud Courtney love references they're more than just Hole II. Mario has an Against Me! Strut to the intro, while DMA is a pounding gem"
Metal Mouth "If they can fulfill their early promise, then The Kut could end up being a big name in no time at all." 8/10
Alt Dialogue "it's a storming track, displaying the potential The Kut have to be one of the UK's best and most invigorating acts."
Hit The Floor Magazine "[No Trace] epitomises the girls' influences from the likes of Nirvana and Incubus, displaying their no messing around approach to modern day grunge and taking us back to the early 90s, where grunge rock was at it's best!"
SWNK Magazine "No Trace, the opening song on The Kut's Make up EP, has a big chance of being the most played song this summer. Awesome stuff!"
Alt Dialog "It's almost as if Soundgarden and Hole were put into a blender with The Kut being the result."
Ultimate Underground "They are equal parts L7 and bands like Placebo. They even show influences of Nirvana without being a retread and falling prey to the familiar."
Seba-Rashii Culture "When we first heard The Kut, we knew that the London based trio were going to be worth keeping a careful ear on. Our patience has been rewarded with the release of the Make Up E.P!"
Uproar Webzine "Known for their enthusiasm and uncontrollable energy on stage, The Kut have created quite a crazy fan base who as you would expect are ecstatic over the release of their new EP, Make Up."
Peek-a-boo Magazine "The Kut present a sonic collage that evokes everything that made the 1990's alternative rock scene such a beautifully broken beast"
Tasty Fanzine "'Mario' has guitar hook similar to Trey Spruance era Faith No More and an awesome ending. 'Closure' and 'DMA' are equally noteworthy and the whole EP is impressively polished. Bravo The Kut." 7/10
Blast Out Your Stereo "Grunge trio, The Kut have released a brand new music video for their song, "Mario," which is off their upcoming EP, Make Up.. Trust me, you'll be singing along to this number for a while (if you aren't already)."
Mistree Magazine "Mario" is 90s alternative rock at it's very best. It is gritty and heavy, with chugging riffs and thudding percussion."
Palace of Rock "There are moments when the all female rock band The Kut sounds like Courtney Love´s Hole... But there are also moments when this London trio bring thoughts to a heavier The Bangles like "Mario", I guess you can call it grunge pop."
Backseat Mafia "The rock girl trio based in London have not long since visited my hometown's longest running live music venue The Lincoln Imp. I went to see them live and they rocked the room with their melodic tracks, long metal hair shaking and rock stances."
Bristol Live Magazine "If Deftones and Hole had a little baby they'd probably sound like The Kut"
http://thekut.co.uk http://twitter.com/thekutgirlsrock http://facebook.com/thekutgirlsrock http://thekut.bandcamp.com
View Profile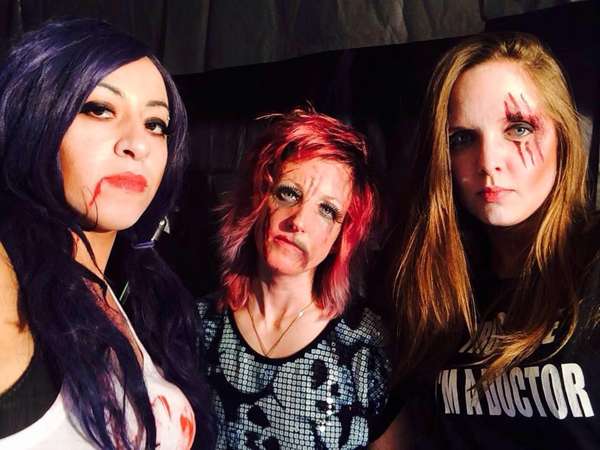 BAD SOLUTION
SWEET CRISIS
DEATH VALLEY KNIGHTS
ACTS OF VENGEANCE
TWO YEAR BREAK
Hey there! Firstly, a huge thank you for stopping by and listening to our music. At the time of writing this, Of Allies are a completely DIY and independent band, so every listener and follow means the world to us. Here's a little bit about what we've achieved so far...
Still a very young band, the OA are starting to gain attention, including from Kerrang!, Marshall Amps, BBC Radio 1 and BBC Introducing. Our debut album, Night Sky, has been entirely crowdfunded, smashing our target with months to spare. We've also found success recently on Spotify Official playlisting, with recent singles '17' and 'Lost Not Found', including: Rock United, New Noise, Rock Your Block, New Rock Now, and more. Sitting at 160,000 listeners per month and climbing.
'For fans of Twin Atlantic, Lower Than Atlantis, Mallory Knox and Deaf Havana, Of Allies tread the lines between alternative rock, melodic rock and UK rock whilst always hinting at something darker.'
For more information: http://ofallies.com/ https://www.facebook.com/OfAllies/ https://twitter.com/weareofallies http://instagram.com/ofallies
View Profile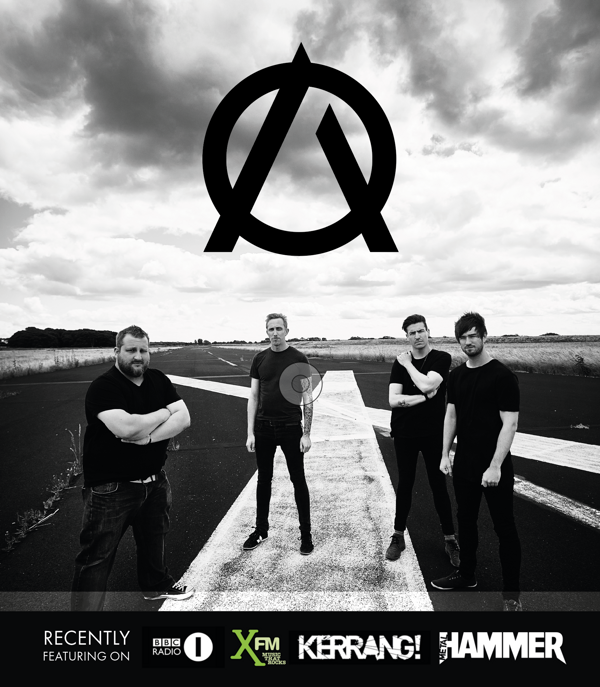 BLACK ROZE
PARABYSS
HOWLIN MAY QUEEN