Fuelled by cider presents
THE SKIMMITY HITCHERS
+ PALOOKA 5 + MONKEY BIZZLE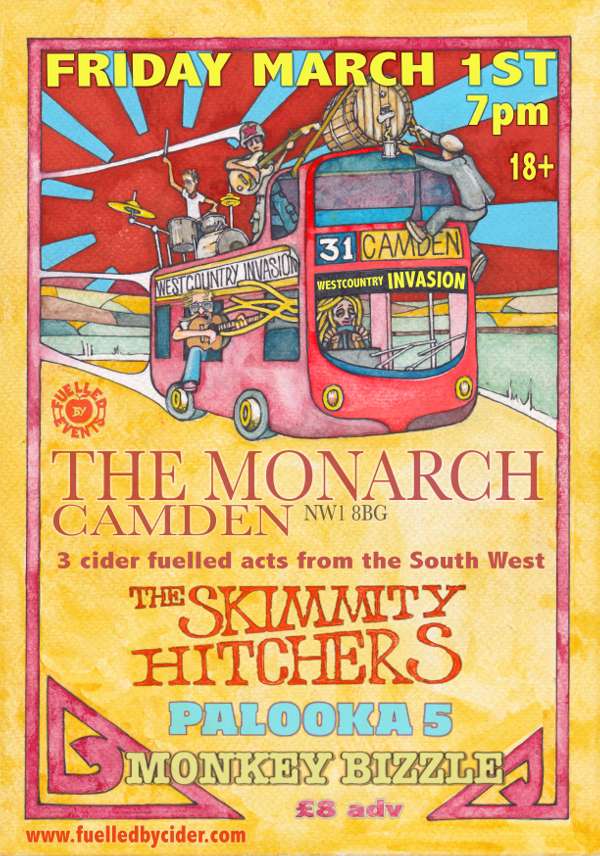 Lock up your badgers and stock up on cider... the WEST COUNTRY INVASION is coming to town!!
3 cider-fuelled acts from the heart of the South West hit The Monarch in Camden Town for a night of live music and mayhem. Ex pats, cow pats and the rural curious are all welcome to this celebration of pure apple voodoo...
The Skimmity Hitchers - Razor sharp parodies and home pressed original material that delve into the deepest, darkest doings of the Wild South West. "The Wurzels on crack!" (NME)*
http://www.skimmityhitchers.com
Palooka 5 - Apple-lyptic Surf / Psych / Garage. Rock n Roll - Cut to the Bone.
Monkey Bizzle - Primate-themed Hip Hop, Reggae, Grime and Funk featuring members of top crop hip-hop crew The Inbredz
https://www.facebook.com/MonkeyBizzle/
Advance tickets £8 from https://fuelledby.bigcartel.com/
Includes FREE ENTRY to club night afterwards.
Real cider on sale at the Monarch bar so get in early and start scrumpin'!
Line Up
THE SKIMMITY HITCHERS
PALOOKA 5
MONKEY BIZZLE