Camden Rocks
HARBINGER
+ RED METHOD + PUPPET KINGS + TENYSON + THE LONG HIGHWAY + MAVEN + GALLOWS CIRCUS + RAT FACE LEWEY + TIDES + GRAMMA VEDETTA
Buy Tickets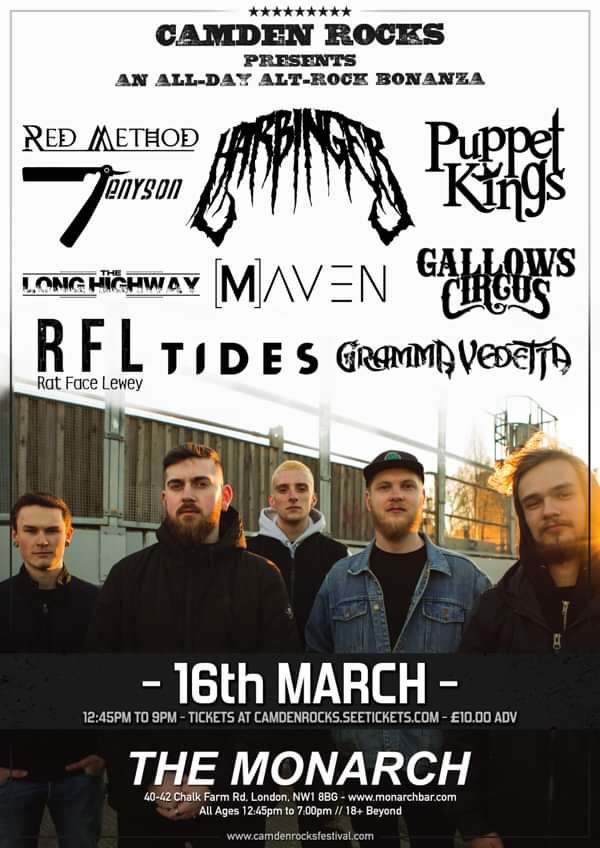 Camden Rocks Festival proudly presents an all-day alt-rock bonanza feat. Harbinger, Red Method, Puppet Kings, Tenyson, The Long Highway, MAVEN, Gallows Circus, Rat Face Lewey, TIDES and Gramma Vedetta live at The Monarch.
Since the continued success of Camden Rocks Festival, we're running a string of 'presents' shows to give you some of the best new alternative, indie, rock & metal music about!
Doors - 12:45pm to 9:00pm // Price - £10.00 Adv. Tickets - http://camdenrocks.seetickets.com
Age - All Ages until 7:00pm, 18+ beyond.
•••••••••••••••••••••••••••••••••••••••••• About:
Harbinger - www.facebook.com/harbingerriffs Blistering speed. Technical Riffs. Brain trauma inducing heaviness. Since their formation in 2015, metal band Harbinger have been building a solid reputation throughout the UK. The Londoners come together to bring a fresh new take on deathcore, tech metal, melodeath etc.Harbinger have thoroughly toured the UK within the past two years, supporting the likes of Loathe, Osiah, Heart of a Coward, Monuments, The Faceless and Ingested. The band has also made appearances at several festivals throughout the UK and Europe- namely their main stage appearances at two consecutive Tech Fests, UK (2016,2017) and their show at Euroblast in Cologne, DE (2017).TheThe currently unsigned quintet draw influence from a plethora of sources: Gojira, Decapitated, Malevolence and The Black Dahlia Murder to name a few.The band are known for bringing an energetic live show, and killer instrumental precision.
Red Method - www.facebook.com/redmethodband Formed from the ashes of Meta-Stasis and The Defiled, Red Method have created a buzz in the metal scene in a short space of time. With their debut album "For The Sick" (produced by Scott Atkins of Grindstone Studios – Cradle Of Filth, Amon Amarth, Monuments, Sylosis) due to be unleashed in 2019, Red Method have carefully crafted songs that contain big grooves and hooks which translate immaculately live. The band have released visuals for songs "Cycle of Violence" and lead single "Split" (which was premiered by Metal Hammer). Both releases have been positively received by their fanbase and critics. The band will be releasing more content in the coming months in the lead up to the release of "For The Sick". With shows and festival appearances already booked for 2019 up and down the country, there is nothing stopping this band from bringing their unique brand of metal to the world.
Puppet Kings - www.facebook.com/puppetkings Puppet Kings are a melodic hard rock band from Brighton and now based in Clapham, drawing influences from both rock and metal acts ranging from the likes of Foo Fighters, Queens of the Stone Age to Alice in Chains and Megadeth. They have been described as "outstanding rock purists" and create great finely crafted songs and live shows filled with energy and passion.
Tenyson - www.facebook.com/tenysonmusic Tenyson: A stripped back three piece playing alternative rock with muscular riffs. Tight, lean & uncompromising. Tenyson are Rob Jupp, guitar and vocals, Rawden Enever, bass and vocals, Scott Clarke, drums and vocals. Tenyson - originate from South London and love to perform live, with their own custom handmade guitars and basses. Making their live performances explosive, powerful and energetic. High hopes are expected from this passionate, driven & organic three piece, with their debut album 'Audiobug'.
The Long Highway - www.facebook.com/thelonghighwayofficial London based quintet, The Long Highway fuse contemporary, electrifying alternative rock with beautifully melodic, catchy as hell hooks. Add some synths, some punk, hip-hop and blues and that will only just start to describe their sound, led by hauntingly powerful lead vocals that captivate any audience they play to."
MAVEN - www.facebook.com/mavenbanduk MAVEN are a Pop Rock band from London, UK. For fans of bands such as Don Broco, Bring Me The Horizon, Young Guns and more. Having shared the stage with bands like The Feeling, Scouting for Girls, Crazytown and Elliot Minor, MAVEN have earned the respect of fans with their catchy choruses and rocky edge.
Gallows Circus - www.facebook.com/GallowsCircus Gallows Circus play blues-hearted, dirty, rock - inspired by the likes of; Led Zeppelin, Blackstone Cherry, Free, Reef, Peter Green's Fleetwood Mac and Thin Lizzy. Creating original songs that induce head-nodding and give you that gurning, chin-growth you only get when you hear badass riffs! All achieved by way of catchy guitar lines, hooky vocal melodies and supported by a robust rhythm section that, once combined, will have you singing the songs for weeks after you've heard them.
Rat Face Lewey - www.facebook.com/ratfacelewey 'Rat Face Lewey' are a 3 piece band From the East Midlands. The band have a passion for adrenaline fuelled music. There's a raw energy to the band's sound that I hope you'll find infectious. The biggest compliment we ever received was during a show in Hackney, when a member of the audience got on stage, took the mic and screamed... "THIS IS WHAT MUSIC IS SUPPOSED TO BE!!!"
TIDES - www.facebook.com/musicoftides TIDES is a hard rock band based in London. To give new listeners a taste of what TIDES are capable of, the band released their debut EP Inventing Lives on Spotify and other streaming services in April 2018. TIDES will be back in the studio in the coming months. Despite taking influence from Muse, Rage Against the Machine and Queens of the Stone Age, the band's music is still somewhat hard to classify stylistically.
Gramma Vedetta - www.facebook.com/grammavedetta An emerging three-piece hard rock outfit which combines the sensibilities of classic grunge with the chunky riffs of metal music and hypnotic hooks of stoner rock. Formed in late 2016, after two years of explosive live shows and songwriting they released their first debut "Proof of Concept" on October 2018. Containing songs with their own colours and flavours, the album captures the multiple influences that makes the Gramma Vedetta's sound so distinctive. "For a small band, member wise, they certainly produce a big sound. To be able to incorporate various styles as well as keeping their own genre shows great progression. 'Proof of Concept' equals proof of promise"(Claire Bannister - Power Play Magazine)
Line Up
HARBINGER
RED METHOD
PUPPET KINGS
TENYSON
THE LONG HIGHWAY
MAVEN
GALLOWS CIRCUS
RAT FACE LEWEY
——
Biography
TIDES is a hard rock band based in London.
The band was formed by Lead Singer Evelyn May and Lead Guitarist Lawrence Hall, who left a mutual previous band in London to create the music that they'd always desired to make together.
After working on the band's material for over a year, and trialing a number of musicians to fill the other two places for several months, the pair recruited Bassist Bill Muxworthy and Drummer Ryan Turgoose to join the line-up in 2017.
In working on building a fan base, TIDES have headlined some of the UK's most well-known venues for supporting fresh bands and artists including London's Camden Assembly, Thousand Island, The Black Heart and The Fleece in Bristol, with the intent to capture the attention of new audiences and industry professionals alike. The band plans to take their music overseas in the coming months, aiming to tour as much as possible both in the UK and abroad.
To give new listeners a taste of what TIDES are capable of, the band released their debut EP Inventing Lives on Spotify, Apple Music, iTunes, Amazon Music, Google Play and other streaming services on the 28th of April 2018.
Despite taking influence from Muse, Rage Against the Machine and Queens of the Stone Age, the band's music is still somewhat hard to classify stylistically.
View Profile
GRAMMA VEDETTA