Camden Rocks
OUTER STELLA OVERDRIVE
+ STATE WILD + THE BONGO CLUB + SHEA RAFFERTY + MAN SHAPED WOLF + SEE YOU IN RENO + THE MCGONIGLES + THELMA BALL
Buy Tickets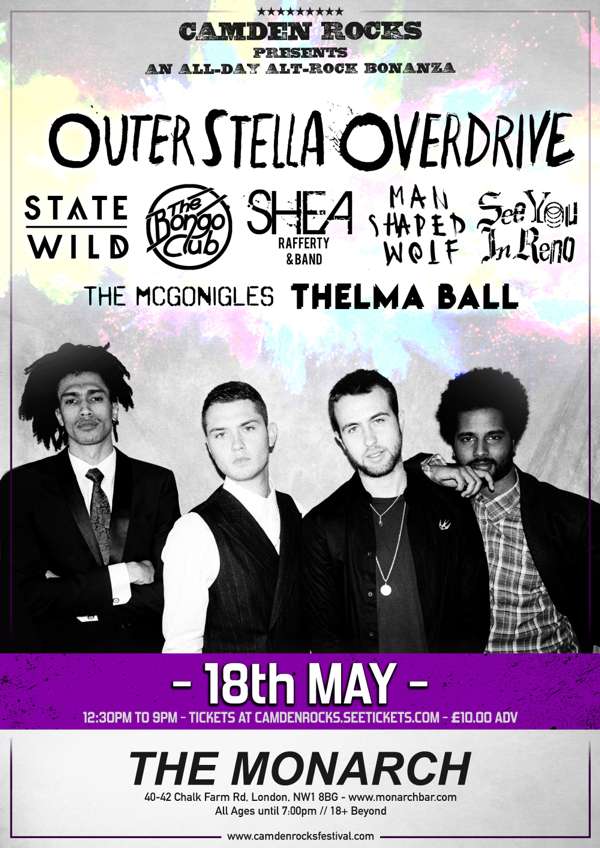 Camden Rocks Festival proudly presents an all-day rock-n-roll bonanza feat. Outer Stella Overdrive, State Wild, The Bongo Club, Shea Rafferty & Band, Man Shaped Wolf, See You In Reno, The McGonigles, Thelma Ball & more live at The Monarch.
Since the continued success of Camden Rocks Festival, we're running a string of 'presents' shows to give you some of the best new alternative, indie, rock & metal music about!
Doors - 12:30pm to 9:00pm // Price - £10.00 Adv. Tickets - http://camdenrocks.seetickets.com
Age - All Ages until 7:00pm, 18+ beyond.
•••••••••••••••••••••••••••••••••••••••••• About:
Outer Stella Overdrive - www.facebook.com/Outer-Stella-Overdrive-172827360318221 Outer Stella Overdrive. Rudy, Raff, Amin & Kelv. just 4 aliens from outer space stuck here on earth trying to spread our truth. Take it or leave it either way we ain't going anywhere.
State Wild - www.facebook.com/statewild State Wild takes you through a rollercoaster ride of emotions. Merging two very different worlds, the expansive sounding landscapes influenced by the wilderness together with the electronic and processed beats of the urban. Their debut single 'Up In Space' captures the essence of the band and continues to make an impact over radio, spotify playlists and music blogs across Europe. But this is just a taste of what they have planned.
The Bongo Club - www.facebook.com/thebongoclub It's about rock'n'roll and being young, today. It's about entering the stage like a boxer enters the ring and leaving it 40 minutes later sweating, it's about hating your day job and loving every minute in a half empty club on a narrow stage on a Friday night! No bad gigs, never a bad audience - just a band totally in love with what they do and wanting to take it all the way by working harder and being more to the point than the rest.
Shea Rafferty - www.facebook.com/shea.musik A singer song writer from Northern Ireland Co. Tyrone. Now Living in London. Recently he has been working on new material and went over to Portland Oregon USA to record a new album. His style is Americana/Rock and his influences are artists like Tom Petty and Bruce Springsteen and also acts like The War on Drugs and Jason Isbell. He is currently working on gigging and releasing his new material.
Man Shaped Wolf - www.facebook.com/manshapedwolf Man Shaped Wolf have been overjoyed by the reviews and growing momentum of their eclectic high energy Rock Funk Blues style, performances, and recent release of their debut EP; 'EP 01'
See You In Reno - www.facebook.com/seeyouinreno As rough as they are smooth, as dirty as they are clean, and as nasty as they are nice.
The McGonigles - www.facebook.com/themcgonigles Twins David and Marie McGonigle front the five piece indie band The McGonigles. A Family based band originating from the same South East London town as the rolling stones (Dartford), the McGonigles echo the same excitement and energy. The McGonigles have played impressive venues such as cargo, the water rats, the buffalo bar, the underbelly, The 100 Club, Whitstable Festival, Dartford Festival and The Underworld.
Thelma Ball - www.facebook.com/thelmaballthelmaball Named after the band's grandma, Thelma Ball maintain a spotlight on the softly medicated culture in which we inhabit. Through the campaign of their debut effort Self Help EP, they have gained support from multiple online publications such as Indie Underground, Gigs and Freudian Slips, Beehive Candy, Cosmic Racket, Entertwine, Indiependent and more.
Line Up
OUTER STELLA OVERDRIVE
STATE WILD
THE BONGO CLUB
SHEA RAFFERTY
MAN SHAPED WOLF
SEE YOU IN RENO
THE MCGONIGLES
THELMA BALL