Camden Rocks
BEARS IN TREES
+ STONE JETS + THE GOOD TENANTS + THE SLOW COOKED BEARS + PILGRIMS DREAM + MARTY BROKE MY HEART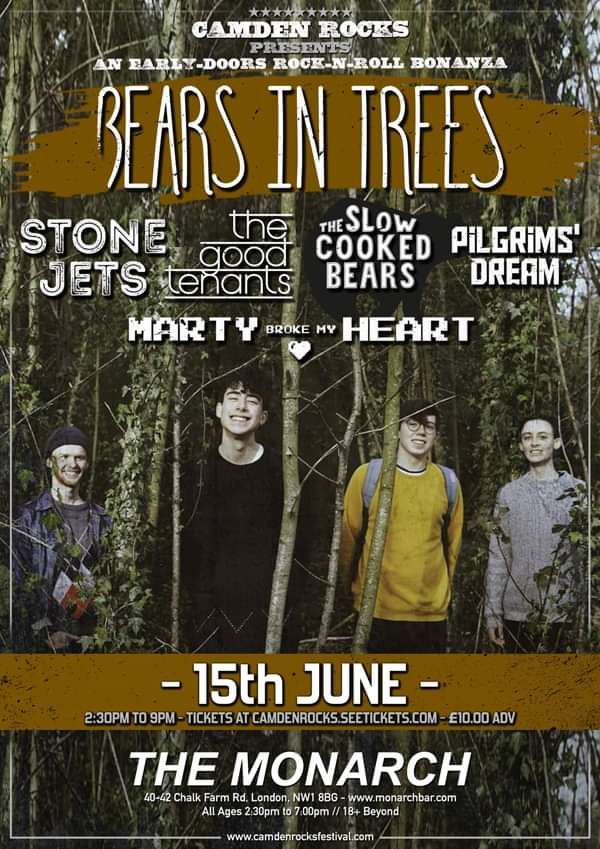 Camden Rocks Festival proudly presents an early-doors rock-n-roll bonanza feat. Bears In Trees, Stone Jets, The Good Tenants, The Slow Cooked Bears, Pilgrims' Dream and Marty Broke My Heart live at The Monarch.
Since the continued success of Camden Rocks Festival, we're running a string of 'presents' shows to give you some of the best new alternative, indie, rock & metal music about!
Doors - 2:30pm to 9:00pm // Price - £10.00 Adv. Tickets - http://camdenrocks.seetickets.com
Age - All Ages until 7:00pm, 18+ beyond.
After Party Cheap List - http://po.st/CRC0615
Stone Jets - 7:45pm The Good Tenants - 6:45pm Bears In Trees - 5:45pm The Slow Cooked Bears - 4:45pm Pilgrims' Dream - 3:45pm Marty Broke My Heart - 3:00pm
•••••••••••••••••••••••••••••••••••••••••• About:
Bears In Trees - https://youtu.be/DJoAv2DOR54 Bears in Trees started in a South London basement in December 2014. Since then, they've been streamed over half a million times on Spotify alone. They hope that by a million streams, they'll be able to move out of their basement.
The Good Tenants - https://youtu.be/ABb7ChNSl7A Together Sarah and Russ make up London's premier alt-blues duo The Good Tenants. Cutting through any music venue with soulful vocals that will captivate whilst somehow harmonising with the conflicting dynamics of blues guitar licks, The Good Tenants are an irresistible force that cannot be ignored. You won't be able to take your eyes off, or ears away from these two as they tear through a set of cleverly crafted music of the highest quality.
Stone Jets - https://youtu.be/VsetYE9M3os Take a pop sensibility; add a dash of classic rock influence, a bucket load of soul and a sprinkling of African rhythms and you'll get Stone Jets — an outfit whose music simply cannot be pigeonholed.With their multi-cultural background, Given and Manfred's sound transcends boundaries. Their toe-tapping tunes cater to any taste while still staying true to their ethos. James Morrison called them "amazingly talented" while others have raved about their live performances. After conquering their home country, the band is ready to share their magic with Europe.
The Slow Cooked Bears - https://youtu.be/L6HNZCbgRaY Visceral Alternative Noise Rock – The trio based in South East London have a new and yet nostalgic sound that will leave you feeling reminiscent. Inspiration for the bands name came from Global warming and its effects on the animal kingdom and the stoic nature the band pursue music with. In 2018 they recorded a limited release EP titled Eclipse available on Band Camp. In 2019 they plan to release a debut single on all major platforms and continue to grow organically and with authenticity.
Pilgrims' Dream - https://youtu.be/ghO4NckB88U Based in London, Pilgrims' Dream is the project of former Marine, Rob Ouseley. Influenced by bands such as Fleet Foxes and Bon Iver, Ouseley recently released his first single 'Ocean', an 'incredibly harmonious' (Indie Pop-Ups) debut that 'really pops in all the right ways' (Ear To The Ground Music). It has seen him reach the finals of the prestigious American Songwriting Awards, and received international radio airplay. He has released further self-produced singles which have gained tens of thousands of plays, as well as featuring in the Alexrainbird Music YouTube compilations which have had millions of views.
Marty Broke My Heart - https://soundcloud.com/martybrokemyheart/head-down-under-1 Marty Broke My Heart is a London-based rock band playing a mixture of disco groove and grungy grit. Consisting of Red Rae (vox) Debbie Dee (drums), (vocals), Jacki Ager (guitar) and Marina Magi (bass), the band has a passion for all sorts of music, and takes it's influences from anything from 90's girl bands like Sleater Kinney and Bikini Kill, to 80's pop-rock such as Duran Duran and Prince.
Line Up
BEARS IN TREES
STONE JETS
THE GOOD TENANTS
THE SLOW COOKED BEARS
PILGRIMS DREAM
MARTY BROKE MY HEART