Camden Rocks
MERCUTIO
+ MK ULTRA + CRYPTIC STREET + THE WAINSTONES + SOLD TO THE CIRCUS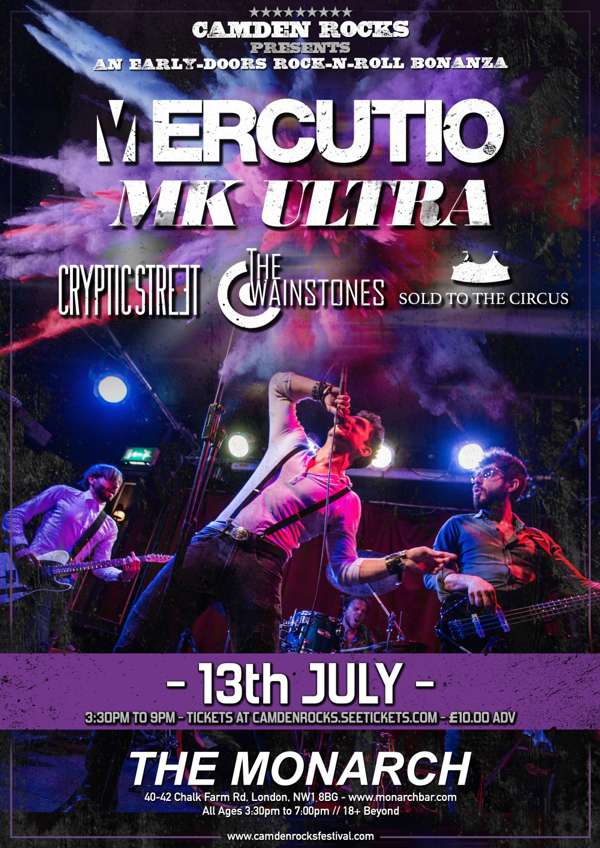 Camden Rocks Festival proudly presents an early-doors rock-n-roll bonanza feat. Mercutio, MK Ultra, Cryptic Street, The Wainstones and Sold To The Circus live at The Monarch.
Since the continued success of Camden Rocks Festival, we're running a string of 'presents' shows to give you some of the best new alternative, indie, rock & metal music about!
Doors - 3:30pm to 9:00pm // Price - £10.00 Adv. Tickets - http://camdenrocks.seetickets.com
Age - All Ages until 7:00pm, 18+ beyond.
After Party Cheap List - http://po.st/CRC0713
•••••••••••••••••••••••••••••••••••••••••• About:
Mercutio - https://youtu.be/xGoY-h1YMhc Mercutio is a four piece rock band: Ross William Wild (Vocals), Fabio Staffieri (Guitar), Emanuele Nazzaro (Bass), Francesco Lucidi (Drums). They recorded their debut album with multi-award winning producer Andy Wright. The debut single 'Back to Nowhere' was mixed by Brit Award winner Alan Moulder and it was playlisted by Planet Rock Radio. The album was very well received critically by all the major music magazines including: Classic Rock, Prog, Metal Hammer and the singles "Anytime" and "Reasons to Erase" had been featured in two compilation albums enclosed on Prog Magazine. They are now working on a new album produced by Diverge Records with Giovanna Romagnoli. For fans of: Nirvana, Led zeppelin, Muse, Nothing but Thieves, Soundgarden
MK Ultra - https://youtu.be/sYeRT-tbSG8 MK Ultra, the King and Queen of debouchary, is one artist that will not go unnoticed in 2019. Working creatively in Los Angeles with elite artists such as Queens Of The Stone Age, Madonna, Green Day, Die Antwoord, & My Chemical Romance he stumbled upon Satan himself.
Cryptic Street - https://youtu.be/1m5ca2WFBYg Cryptic Street is a musical riot, ready to rock your ears and mess with your brain. They're serving alternative madness with a quirky twist and a punk attitude, fresh out of their DIY framework. Cryptic Street have been shaking audiences to the core with their infectious tunes, and with the honest, relatable themes they attack in their tracks. Their sing-along hooks, melodic bass lines and punchy guitar lines have left everyone wanting more from these riot grrls-next-door.
The Wainstones - https://youtu.be/5foZfbPmujE An eclectic mix of words and melodies spawned out of the North East , held together with percussion rhythms straight out of East London. An album and more of original material ready for that chance.
Sold To The Circus - https://youtu.be/pgRZjDiZLoo A London Based alt-rock band with hardcore influences, with a diverse sound and powerful use of spoken word.
Line Up
MERCUTIO
MK ULTRA
CRYPTIC STREET
THE WAINSTONES
SOLD TO THE CIRCUS