Camden Rocks
LUNAR ECHOES
+ CARNIVALS + THE TABOOS + PASSIFS + TVVINNS
Buy Tickets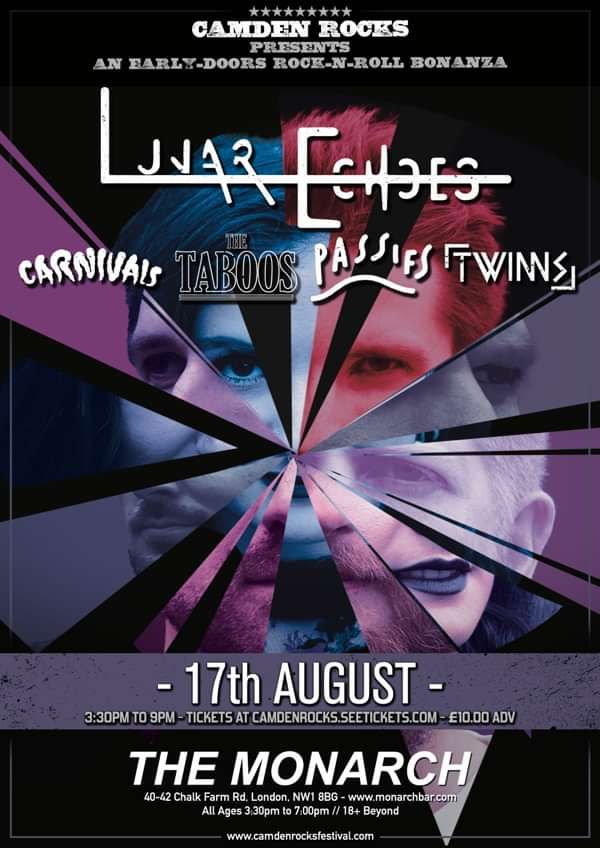 Camden Rocks Festival proudly presents an early-doors rock-n-roll bonanza feat. Lunar Echoes, Carnivals, The Taboos, Passifs and Tvvinns live at The Monarch.
Since the continued success of Camden Rocks Festival, we're running a string of 'presents' shows to give you some of the best new alternative, indie, rock & metal music about!
Doors - 3:30pm to 9:00pm // Price - £10.00 Adv. Tickets - http://camdenrocks.seetickets.com
Age - All Ages until 7:00pm, 18+ beyond.
After Party Cheap List - http://po.st/CRC0817
•••••••••••••••••••••••••••••••••••••••••• About:
Lunar Echoes - https://youtu.be/wrOxxOkoagA Formed from the ashes of popular Cambridge band The Abstracts, Lunar Echoes sees Ben Taylor, Ben Nunn and Mark Thomson come together with London based singer/songwriter Ronnie White. Based across London and Cambridge, the band performs Alternative Rock originals enhanced by prominent bass and drums combined with intricate guitar and synth work to create a unique sounding outfit.
Carnivals - https://youtu.be/-L8lvcDWsI4 Carnivals are an Indie Rock Quartet from the depths of South East London.
The Taboos - https://youtu.be/3CmDrVPxGWg The Taboos are a three-piece contemporary Indie/Alternative band based in East London. Their sound is very diverse, varying from punching, anthem-esque choruses to echoey soft pop melodies.
Passifs - https://soundcloud.com/passifs/my-girl-passifs Passifs play catchy, chunky alternate/indie rock. Catch us at the Camden Rocks presents... it's set to be an amazing day of music!
Tvvinns - https://open.spotify.com/track/0Xylere3yguBPiogyRMnQf TVVINNS are one of North London's most exciting new rock groups. If you haven't heard of this "surprisingly loud" duo, described as a cross between Drenge and QOTSA, you will definitely hear them.
Line Up
LUNAR ECHOES
CARNIVALS
THE TABOOS
PASSIFS
TVVINNS