Camden Rocks
Modern Hinterland
+ Maxx Palmer + The Knievel Dead + The Good Tenants + Aiko
Buy Tickets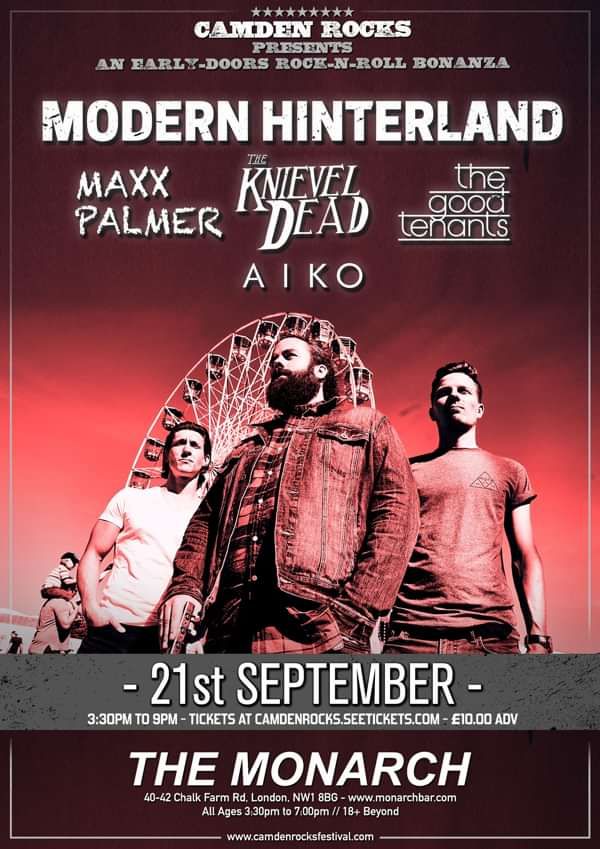 Camden Rocks Festival proudly presents an early-doors rock-n-roll bonanza feat. Modern Hinterland, Maxx Palmer, The Knievel Dead, The Good Tenants and Aiko live at The Monarch.
Since the continued success of Camden Rocks Festival, we're running a string of 'presents' shows to give you some of the best new alternative, indie, rock & metal music about!
Doors - 3:30pm to 9:00pm // Price - £10.00 Adv. Tickets - http://camdenrocks.seetickets.com
Age - All Ages until 7:00pm, 18+ beyond.
After Party Cheap List - http://po.st/CRC0921
•••••••••••••••••••••••••••••••••••••••••• About:
Modern Hinterland - https://youtu.be/R_IL4tssE1g Modern Hinterland is a London based Indie-Americana 4 piece that began life as a solo project by the Songwriter Chris Hornsby. The band grew into its current form over the course of releasing two albums on Label Fandango in 2017 and 2018, with a sound somewhere between The War On Drugs and Wilco, with a hint of Springsteen. The lineup includes bassist Tim Thackray, Guitarist Simon Shippey, and Drummer Colin Marshall.
Maxx Palmer - https://youtu.be/-V57X6ET-34 Hertford's Power-trio Maxx Palmer belong in no pigeon hole at all. Their combination of sheer energy, hooky songs and great playing make this a band not to miss!
The Knievel Dead - https://youtu.be/jOftHxZxz8E Based in North London, sinister indie rock outfit The Knievel Dead formed in 2012 with the release of their first album 'And We Sleep'. "…their album release seems to be one of the best-kept secrets on the planet. Which is a shame because it's damn good." Tom Robinson 6music (And We Sleep 2012)
The Good Tenants - https://youtu.be/t9dR9ZKp-vQ Together Sarah and Russ make up London's premier alt-blues duo The Good Tenants. Cutting through any music venue with soulful vocals that will captivate whilst somehow harmonising with the conflicting dynamics of blues guitar licks, The Good Tenants are an irresistible force that cannot be ignored. You won't be able to take your eyes off, or ears away from these two as they tear through a set of cleverly crafted music of the highest quality.
Aiko - https://youtu.be/7Zbe9om8IM4 Dreamy tunes, with an energetic performance, neon visuals and a unique vibe. This is Aiko. In August 2018 she released her debut EP, called "AIKO", with lyrics about solitude and love and an ambient vibe. She is an experienced performer, actively playing around Czech Republic, Germany and Hungary and currently producing new music.
Line Up
Modern Hinterland
Maxx is an exciting emerging artist from Hertfordshire.
Max Palmer is a young newcomer to the music scene who captures the audience with his original songs. He is a powerful and emotional singer who's making an impact wherever he appears. Influences range from Stevie Ray-Vaughn, Hendrix and Jeff Buckley.
View Profile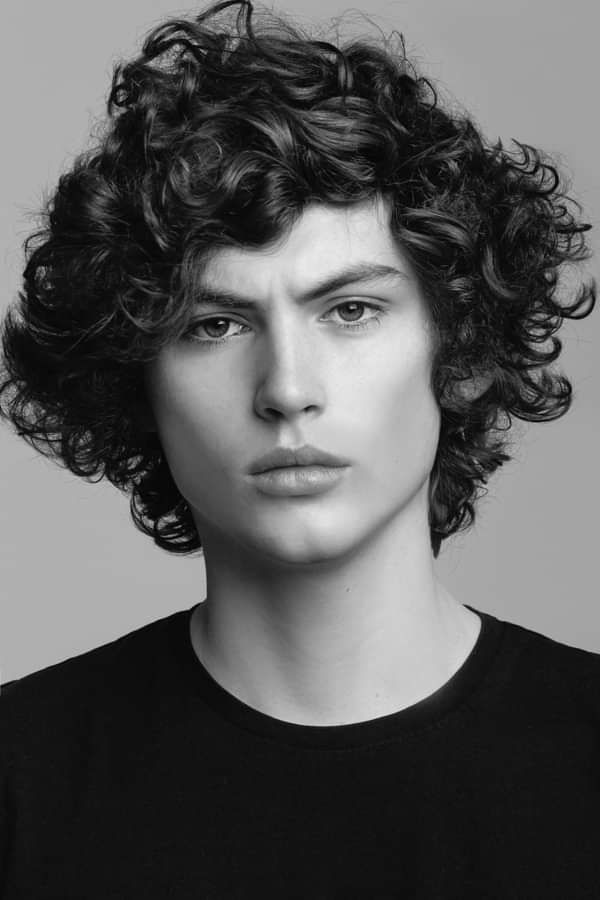 Based in London, the intensely sinister indie rock exploit The Knievel Dead formed in September 2012 with the release of their first album 'And We Sleep' at The Dublin Castle in Camden.
This first offering quickly found its way onto BBC 6Music's Mixtape with Tom Robinson, as well as Shoreditch Radio. Shortly after The Knievel Dead were selected for NXNE 2013 in Toronto, Canada. This coincided with their 2nd release, in the form of a 3-track EP titled 'Psychosis' which was also featured on Shell Zenner's Amazing Radio show, Roundhouse Radio and Zoe Bryant's Hoxton Radio show. In 2014 the band headlined Hi-Hat Festival in Szczecinek, Poland.
The band released their second album 'We Will Fall' into the wild with a launch party at The Enterprise, in early March 2015. However, shortly after this release, the original line up disbanded and a period of silence occurred. Since then, front man Odel has been locked away writing new material. Now with a new line up, The Knievel Dead rise again and are recording and rehearsing for a new set of shows to come. Watch this space!
View Profile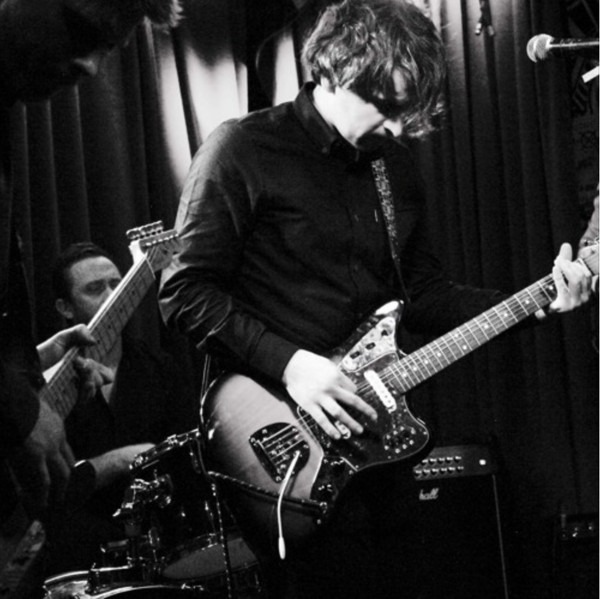 The Good Tenants
Aiko