Camden Rocks
Healthy Junkies
+ RICH RAGANY & THE DIGRESSIONS + The Creeping Terrors + Prisoners Of Mother England
Buy Tickets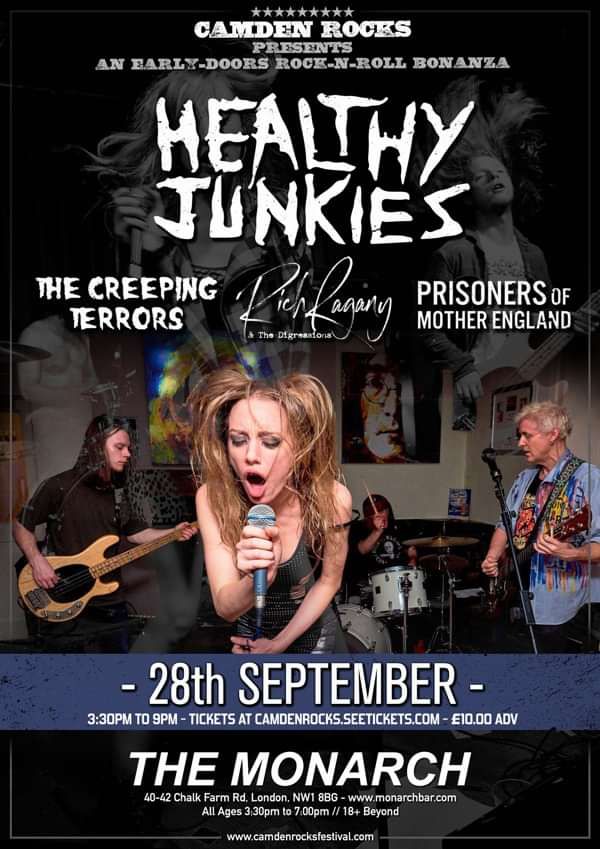 Camden Rocks Festival proudly presents an early-doors rock-n-roll bonanza feat. Healthy Junkies plus Rich Ragany And The Digressions, The Creeping Terrors, Prisoners Of Mother England and more live at The Monarch.
Since the continued success of Camden Rocks Festival, we're running a string of 'presents' shows to give you some of the best new alternative, indie, rock & metal music about!
Doors - 3:30pm to 9:00pm // Price - £10.00 Adv. Tickets - http://camdenrocks.seetickets.com
Age - All Ages until 7:00pm, 18+ beyond.
After Party Cheap List - http://po.st/CRC0928
•••••••••••••••••••••••••••••••••••••••••• About:
Healthy Junkies - https://youtu.be/hMfROcrsUNg Mixing Punk Rock with Grunge, Psychedelic Rock, New Wave, Garage Rock and Goth, add a soupçon of theatre and you have Healthy Junkies. Glamorous yet rebel lead punkster Nina Courson moved to London after she ran away from home to pursue her own rock n roll rite of passage.. Destiny awaited when she found guitarist Phil-Honey-Jones who at the time was in a psychedelic rock - outfit named Nurotica. Phil had left his dysfunctional home as a young lad as well, and the two went on their way seeking solace in the world of music. Naming the band Healthy Junkies, reflecting the mental health epidemic currently spreading like wildfire through the core of the western society.
Rich Ragany And The Digressions - https://youtu.be/Nbm2Ov3YSDc "...you're in the capable hands of one of the country's most engaging frontmen. A unique, hitherto unimaginable combination of David Lee Roth and Greg Dulli, his unpredictable onstage storytelling has become legendary" - Vive Le Rock Magazine
The Creeping Terrors - https://youtu.be/QTv_XRaqXAI Horror and feminism are the themes in The Creeping Terrors with a dark humour it is a strange mix of post punk/death rock with a RIOT GRRRLS twist. It is very rare to have a band that incorporate horror on a female and feminist point of view. We like to have an aggressive unapologetic sound, fast, short songs and very much full of punk influences. The sound is now getting darker and more sophisticated technically but the shouting and screaming will never end.
Prisoners Of Mother England - https://youtu.be/aa6AQkNGwo8 Alternative Rock/Punk Rock band Prisoners Of Mother England formed in 2015 in West Yorkshire by Bedderz, opened for the likes of Toyah, Hands off Gretel, Newtown Neurotics etc. Bedderz relocated to London town late 2015, 6 months later POME were back playing the London circuit.
Line Up
Parisian Lead singer Nina Courson met British guitarist Phil Honey-Jones in 2009 in the venue Punk in Soho, London both of them were gigging in separate bands at the time. The shared influences of the likes of Iggy Pop, Nirvana, Blondie, Killing Joke, Sonic Youth, Bauhaus and Bowie brought them together and has played a big part in the direction of the music they make. Inspiration has come from far and wide and lyrically the lines between autobiographical and fiction are blurred and merged. Healthy Junkies hit the road in 2010 playing as many gigs as possible in order to hone their performance and forge their own sound. Playing alongside so many great punk bands like The UK Subs, GBH, Theatre of hate and The Rezillos has also undoubtedly influenced the material giving some of the new songs a previously unfound edge. They have 3 albums out to date, 2 of them on STP records and are looking to get back into the studio soon to record a fourth with drummer Tony T and D-Day the bass player who have completed what is undoubtedly the best line-up HJ have had.
Think Siouxsie Sioux meets Blondie meets Sonic Youth down a dirty, dark alley and you'll have some idea of what HJ are about.
View Profile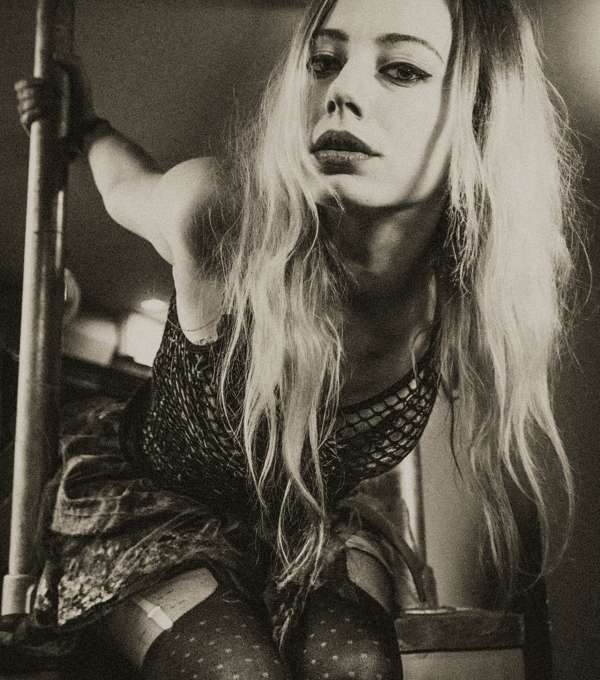 RICH RAGANY & THE DIGRESSIONS
The Creeping Terrors
Prisoners Of Mother England