The Isle Of CC
+ Bobbie Johnson + La Plage + Steven Bamidele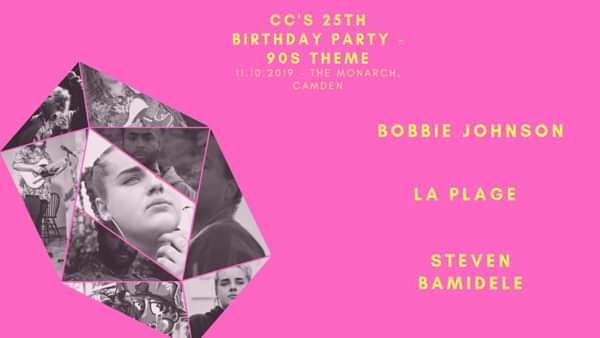 PARTAAAAY PEOPLE!
On 10th Oct your girl CC from The Isle Of CC girl turns 25! Y'all know I love music and was born in the 90s so I thought why not combine the two!
Don't get it twisted The Isle Of CC won't be performing but members of the band will be there ;)
Come and watch my very talented friends
Bobbie Johnson She got mad flow and when she gets on stage trust me I'll give y'all that look and you'll know ITS ABOUT TO GO DOWN!
Bobbie Johnson is a Rapper/Producer coming out of the sunny seaside city Brighton (UK). Conscious thought and social commentary showcased on her latest EP 'You & I'. Over the past year, she has been supporting the likes of Rag N Bone Man, Roots Manuva, The Pharcyde and festival stages around the UK and Europe, she has gained the nickname of the 'Rapping Adele' increasing her fan base with every show she commands, promoting the new age voice of hip hop.
https://open.spotify.com/artist/53UYVk8esbujg16JqCpQEO?si=5Ea6r6ZvSxG1H82aYoQyLA
Taylor Barker / La Plage She'll send you on a spaceship in your mind! Get you all up in your feels!
Brighton - Based Singer/Songwriter Taylor Barker's music adventures that can also transform into full band La Plage with a talented collective of musicians. Soul Indie Pop.
https://m.soundcloud.com/taylorbarkermusic
Steven Bamidele He has the voice of an angel giving you chills down your spine!
Brighton based singer-songwriter and producer. Giving you some soul vibes to bless your eardrums.
https://open.spotify.com/artist/71MVm1MdM62WiEBkSIjIA6?si=H4UWvpSETXu0xylDXEUeig
After 10pm there will be a club night on and we call all stay for free!
So I need you to get your MC Hammer pants on and your Fresh Prince of Bel Air dance moves. Come celebrate my quarter century with me