Camden Rocks
Jellyfish & The Milkmen
+ Black Roze + Lady Rage + Feed The Wolf + Black Orchids + Spar Marta + Kursk + Out of Exile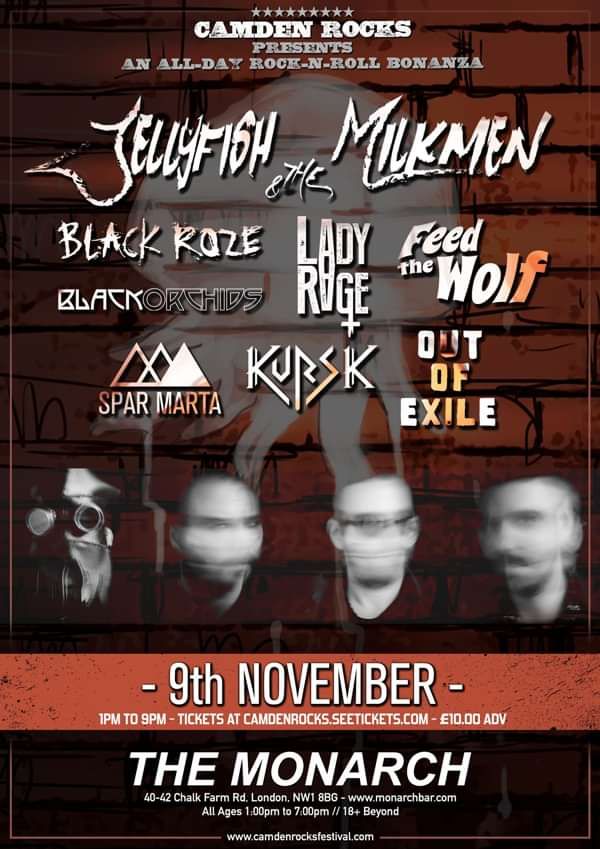 Camden Rocks Festival proudly presents an all-day rock-n-roll bonanza feat. Jellyfish & The Milkmen, Black Roze, Lady Rage, Feed The Wolf, Black Orchids, Spar Marta, Kursk - Band and Out Of Exile live at The Monarch.
Since the continued success of Camden Rocks Festival, we're running a string of 'presents' shows to give you some of the best new alternative, indie, rock & metal music about!
Doors - 1:00pm to 9:00pm // Price - £10.00 Adv. Tickets - http://camdenrocks.seetickets.com
Age - All Ages until 7:00pm, 18+ beyond.
After Party Cheap List - http://po.st/CRC1109
•••••••••••••••••••••••••••••••••••••••••• About:
Jellyfish & The Milkmen - https://youtu.be/jgOat2W-sSE Jellyfish and the Milkmen are Antonio Peluso, Giulio Vergara, Gianluca Balzamo and Nico Valero. They formed over 2 years ago in UK, all members come from different musical experiences and musical background that founds a common root into Rock Stoner, Blues and Psychedelic Rock. Their single "Who are you?" has been released in September 2019 and their first album will be released in October 2019. In September 2019 is started their tour called "Misconception" and the dates are in constant update.
Black Roze - https://youtu.be/74e8UMm3EOs Female Fronted Sleaze Goth Classic Rock/Metal! Dual guitars with classic Riffs. Emotionally charged Feisty Rock N Roll!
Lady Rage - https://youtu.be/QDcYge-ofjQ Lady Rage are a band like no other. Their girl riot esc sound, spliced with aggressive punk riffs, grungy undertones and rocky beats are a perfect match of genres. These chicks equal trouble and won't play by the rules. Ready to shake things up, they'll break through the endless ordinary, simplistic, popular, meaningless cascade of artists and burn the strings of the puppeteers working behind every money-hungry entertainer monopolising the music industry today. The target to dominate music is in sight but their battle has only just begun. Enemies loom and many obstacles to overcome draw near. You've been warned. Keep watching if you want more.
Feed The Wolf - https://youtu.be/d0PYMKZEECA Bluesy/Alternative/Rock'n'Roll From Hell and Heaven. Dirty but pure, direct but metaphorical, deep but light, clear but full of contradictions at the same time.. sprinkled with passion and darkness for your full enjoyment... "Lively rock and roll, sometimes a bit bluesy, sometimes a bit southern" - Loud Enough? Magazine
Black Orchids - https://youtu.be/MEPPW5UAwMU BLACK ORCHIDS is powerful, raw and lives within liminality...Soulful vocals soaked in a heavy provocative soundscape
Spar Marta - https://youtu.be/GFiY-m0b-fA Merging hard rock, metal and reggae together this band are unlike any band you've ever heard before. Get ready to sweat, mosh and dance your ass off because they are not an acid jazz trio, but they are Spar Marta...
Kursk - Band - https://youtu.be/62764UdCAA4 Formed in 2015, Kursk are a four-piece NWOBHM band hailing from Suffolk. Taking inspiration from the likes of Judas Priest, Witchfinder General, Pagan Altar and Black Sabbath, the band's debut album is set to be released worldwide later this year.
Out Of Exile - https://youtu.be/ijqkV5qED_Q The music is Rock n' Roll simple as that. No agenda, no need for fame or fortune or to impress girls and no pressure, the result is music created from the heart for the pure and simple pleasure of writing and performing it. That is what makes it great. So much material surfaced the band had to record their first album, Politics Of Humanity, already. Released on 25th January 2019, we're super proud of our self-funded album which is available now on CD/Digital/Streaming formats. With a rock-solid backline, a swaggering Les Paul / Marshall mix and a singer who is unable to stand still for more than three seconds, what could possibly go wrong? We hope our love and enjoyment of playing these songs radiates out to the audience and they can enjoy it as much as we do.
Line Up
Jellyfish & The Milkmen
Black Roze
Lady Rage
Feed The Wolf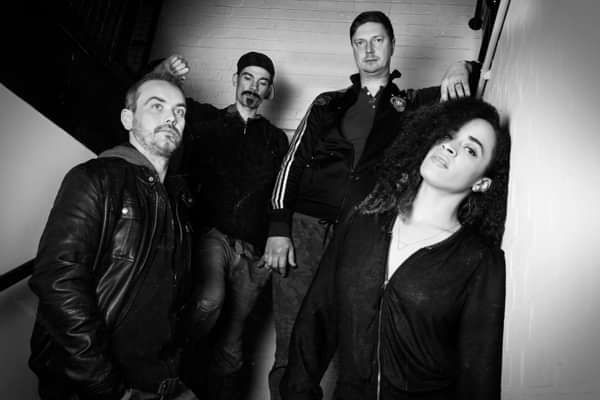 Spar Marta
4 piece band from Suffolk, UK with a passion for heavy metal. Inspired by the likes of Judas Priest, Witchfinder General, Black Sabbath and Pagan Altar.
View Profile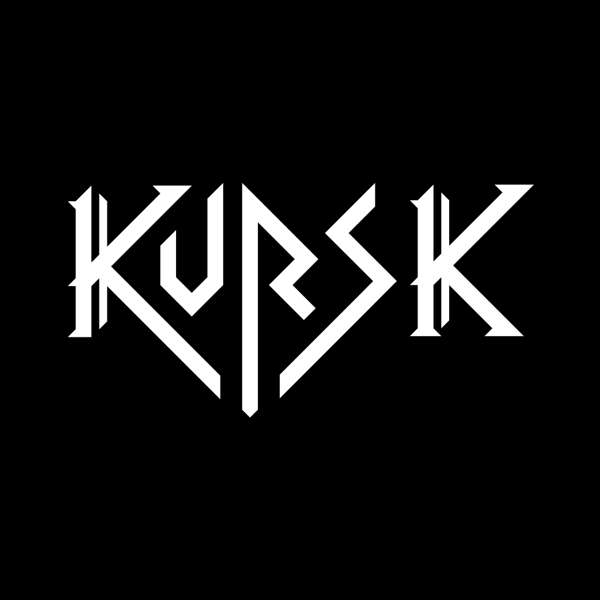 Frozen in time by the fall out of the 90's and naughties, four warriors of Rock have broken free of their icy tomb, taken a look at the world and decided to kick everyone up the ass". So dust off that old leather jacket and dig that bottle of Jack out from the back of the cupboard and brace yourself. This is Rock n Roll in its purest form, straight up, LOUD and PROUD and it's all there in spades. Big riffs, big choruses, big guitar solos and even the odd gaggle of Woah's and Yeah's. The only thing missing in the hairspray but that is no bad thing. The mix of one of the most solid back lines on the planet, overlaid with a lazy swaggering Les Paul turned up to 11, blended in with "bang on" vocals from a self-confessed prince of pop makes for a fascinating experience. This band doesn't stare at its feet and drone incoherently into the crowd. The infectious "Jig Sta" is up and down and left and right like an over charged energizer bunny whilst the rest of the band nail your internals against the back wall with massive riffs and a hard hitting back line that thumps through your guts. With grooves, rhythms and choruses that will tele-port you straight into the middle of the most insane house party you've witnessed, this is one band well worth seeing. They are Out Of Exile in every sense of the term but we are glad they are. All that energy, the riffs, that tingling feeling when you go "Ohh this is going to be a good song" just couldn't be bottled up any longer. On a circuit full of acoustic guitars and one man misery bands pandering to the lonely house wives club, this is the best bang for your buck you are likely to get. They will grab you by the scruff of the neck and shout right in your face - "come on all you Guys and Gals IT'S PARTY TIME PEOPLE, LET'S GET ON WITH IT"
View Profile