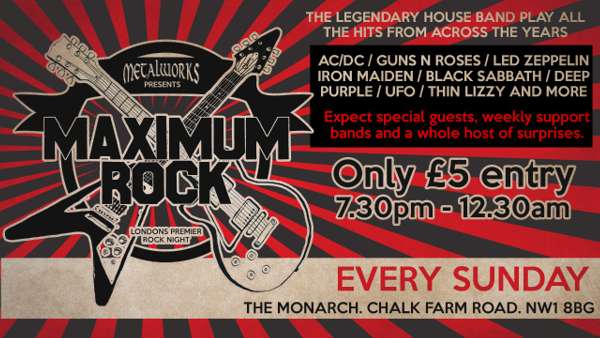 Metalworks are a Sunday institution in Camden, as the metal/rock covers band have been playing there every week now for 18 years. Fronted by the legendary Steff, band members past and present have been drawn from such luminaries as Iron Maiden, Alice Cooper, Judas Priest, Uriah Heep, Voodoo Six.
All the classics are covered from AC/DC to Zeppelin, Iron Maiden, Metallica, Thin Lizzy and the old-school sounds of Free, Deep Purple, Hendrix etc. 2 ½ hours of rocking sounds every Sunday night from 8.30pm till midnight.
All for just £5 entry on the door. *Metalworks also has guest opening bands playing original music or covers on a regular basis and Metalworks holds 'themed' evenings, usually tributes to particular bands or genres of music.
It's a night of MAXIMUM ROCK as the name suggests.
The history of the band: The first line-up of Metalworks emerged back in the early nineties, with Vocalist/Guitarist Steff, and Lead Guitarist Tony Parsons, together with various other musicians sharing duties; Peter Cowan a regular on drums.
Prior to Metalworks, Steff and Tony had been in a couple of bands together, and for a short time Tony was also part of an early Iron Maiden line-up, recording the tracks Wrathchild and Sanctuary for the 'Metal For Muthas' compilation album, The BBC Live Sessions, and embarking on their first UK Tour. Tony and former Maiden Drummer Doug Sampson were later replaced by Dennis Stratton and Clive Burr. Several years later, a chance meeting, and then some informal jamming with old mates, led on to what is now Metalworks.